Unique and Natural-Looking Artificial Trees
Our creative services are To-The-Trade custom for interior designers and architects, and business owners alike. Make Be-Leaves products are for home and office use and include artificial Bamboo, Palm, Ficus, Banana, Olive, Bonsai plants and flowering faux trees. Our silk trees are shown with optional decorative containers, and some with optional custom base plantings. Most artificial tree varieties are available up to 20+ ft. Consultations are gratis. Send us a photo or sketch of a style of tree you are interested in, and we can custom construct it per your specifications.
All of Make Be-Leaves trees meet strict state and federal requirements for flame certification of silk trees and plants.
Artificial Custom Trees
Our faux trees are selected from a variety of real woods to create unique and uniquely natural-looking specimen trees. Our attention to replicating even the smallest facet and imitating nature's almost inimitable style give our custom silk trees and preserved palms their extraordinarily real appearance. » CLICK A TREE DESIGN BELOW
Areca
Bamboo
Birch
Bird of Paradise
Black Olive
Camellia Leaf
Cherry Blossom
Dracaena
Ficus
Fiddle Leaf
Fishtail Palm
Fruit
Maple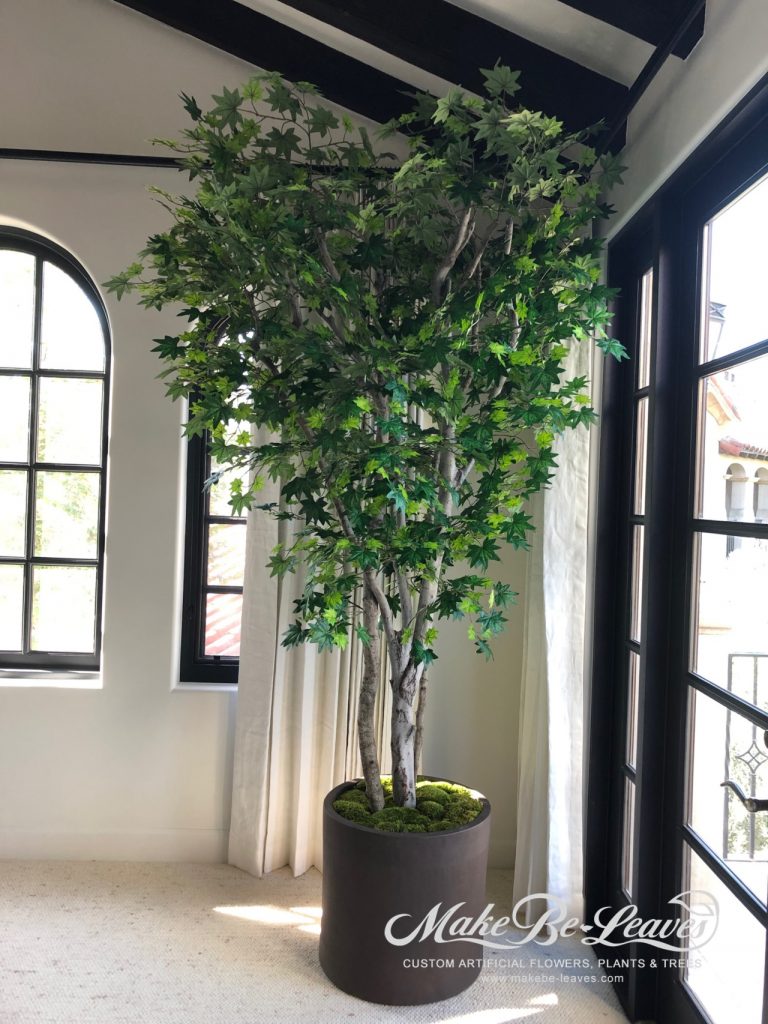 Mediterranean Olive
Myrtle
Nandina
Oak
Pine
Preserved Trunk Palms
Raphis
Schefflera
Weeping Pepper
Unique and Natural-Looking Artificial Trees
Our Creative Artificial Floral Design Team Is Here To Create Your Indoor / Outdoor Green Dream Come To Life!
Susie Ameche, Make Be-Leaves Founder and CEO
Call Make Be-Leaves today for a FREE personalized quote 800.634.1402
| email: [email protected]
Watch A Video
Click on photos to view larger detail:
Designer Artificial Flowers, Plants & Tree Installation Worldwide
Faux foliage for commercial design projects,  living spaces, building structures, restaurants, and interiors.