Popular Bespoke Artificial Trees
Lush creations so "life-like" Mother Nature would be envious...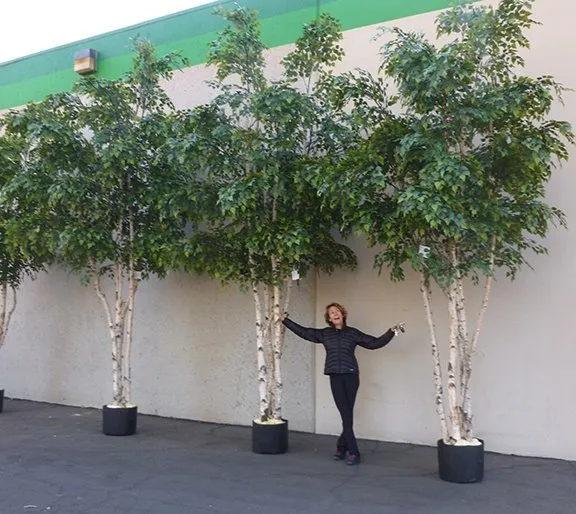 Artificial Trees Are The Cornerstone Of Make Be-Leaves Business!
Make Be-Leaves bespoke artificial trees are long lasting, made with only the highest-quality materials, premium UV silk and custom-constructed in our factory. At Make Be-Leaves we select from a variety of woods to create unique and natural looking specimen trees. Our attention to detail and nature's style give our custom faux trees their very real appearance.
Make Be-leaves life-like trees are shown with optional decorative containers and some with optional custom base plantings. Most faux tree varieties are available up to 20+ ft. Our signature line of artificial trees continues to expand with new designs and new species.
Make Be-Leaves meets all of the state and federal requirements for flame certification of silk trees and plants. Make Be-Leaves is a Certified California flame retardant applicator, and also has the NFPA-701 Flame Certification. We have extensive experience in flame treatment of artificial plants for public areas.
---
Send us a photo or sketch of a style of tree you are interested in and we will custom create it.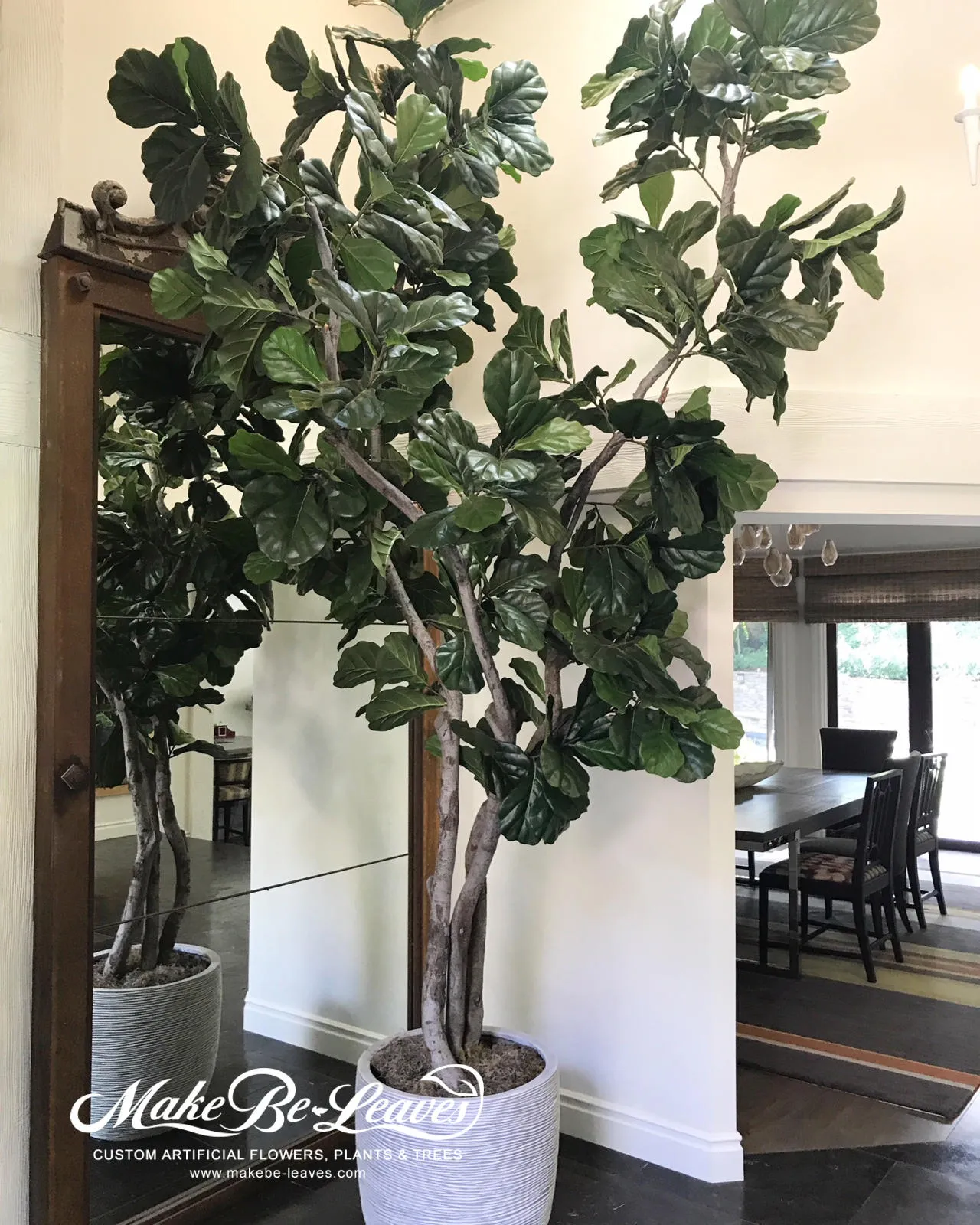 FIDDLE LEAF TREES
Are you looking for an exotic, dramatic tree to make a statement?  Our custom faux Fiddle Leaf Trees are a great choice.  The combination of the large, bold leaves and the beautiful natural mahogany wood trunks make our artificial Fiddle Leaf Trees a perfect finishing piece to any space – and customized to your specifications. 
Choose from a shorter single trunk,  8 ft. stunning trees to complete a space …or let's design large scale, broad canopy Fiddle Leaf Trees to create a grand first impression for your restaurant, hotel or commercial space. 
Contact us to discuss how we can incorporate our elegant MakeBe-Leaves Trees into your design project!
» VIEW TREES
MEDITERRANEAN OLIVE TREES
Our custom Mediterranean Olive Trees have grown to become the overwhelmingly most popular tree that we produce.  Our tree artisans attach each graceful olive branch to the trunks, starting from the top and artistically working down.  The slender olive leaves have a soft, sage hue, which give the tree a lightness & openness, and draws the eye to the beautiful, natural tree trunks.
Our Mediterranean Olive Trees have been created for grand, focal pieces in hotel lobbies, restaurants, senior living facilities, casinos, churches, offices and residences. 
Ranging in height from 4 ft. up to a massive 20 ft. height – our Mediterranean Olive Trees will truly transform any space. 
» VIEW TREES
CHERRY BLOSSOM TREES
The cherry blossom represents the fragility and the beauty of life. It's a reminder that life is almost overwhelmingly beautiful but that it is also short. Spring is nature's way of saying, "Let's party!"
That is the beauty of our stunningly beautiful custom Cherry Blossom Trees – you can enjoy their unparalleled beauty and drama in any space all year round!
Customizing is our specialty – choose from white or two-tone light pink – with all trees constructed on multi natural wood trunks.  Our faux Cherry Blossom Trees are equally popular as a standard 7 – 8 ft. height, as well as large canopy trees for impressive focal pieces for restaurants, hotels, and events.
» VIEW TREES
(Scroll down to view)
Popular Artificial Trees Gallery
Blossoming Artificial Trees
Make Be-Leaves life-like Cherry Blossom Trees created to your specification!
Look closely at the quietly quivering leaves. Glance up at the treetops. You'll see how Make Be-Leaves believes in meticulous attention to detail. At Make Be-Leaves, artificial trees and preserved palms have always been our leading premium offering. Make Be-Leaves faux plantscapes are made with only the highest quality components and are custom-constructed in our Southern California factory.
Designer Artificial Flowers, Plants & Tree Installation Worldwide
Faux foliage for commercial design projects,  living spaces, building structures, restaurants, and interiors.