Our Designer Artificial Plants & Flowers Liven Any Space!
Long-lasting artificial plantscaping, large preserved trees and realistic outdoor Boxwood hedges are a specialty of ours! Landscape Architects work with us to design and build artificial plantscapes, install large faux trees and artificial plants into interior atriums, and exterior places where there are multiple difficulties to maintaining a live specimen. Large lobby spaces are another area where high-end, large-scale artificial trees constructed on natural wood trunks are a great choice, and often times enhanced with live base plantings.
Click to get our design catalog by email.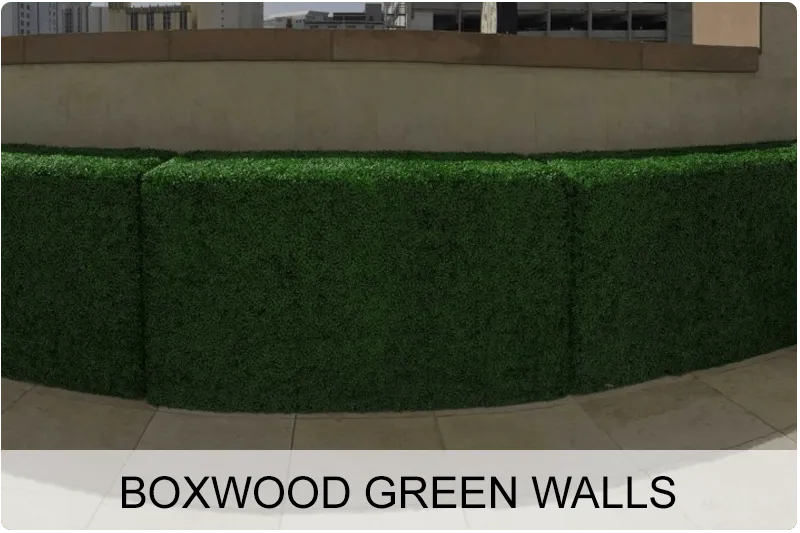 Boxwood Green Walls transform a stark or an unattractive wall into instant greenery and ambience – without requiring any floor space or planters. These UV green walls are constructed on an open metal mesh backing for easy attachment to any type of wall.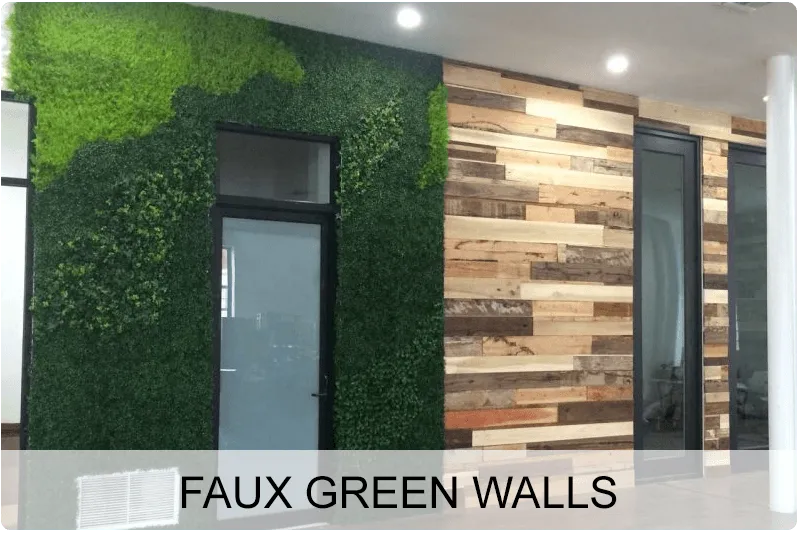 Custom Faux Living Walls are an exciting and creative way to transform a wall space. With a variety of UV foliage options, you can create fun, geometric patterns or keep one style of greenery per panel for contrasted plantings!
Hedge-style Ficus Trees and trellis-style Azalea trees are another great option to create privacy, while allowing light through. They are UV coated while being constructed on natural, water-treated wood trunks makes them look so life-like.
Colorful UV Flowering Plants will provide year-round permanent color – perfect for balcony planters, base plantings of larger trees or plants, and as low ground cover in planter boxes, your choice.
Are they live? …or Make Be-leaves!
We enjoy working closely with landscape architects to create the most lifelike, high quality, and effective artificial plantscaping to enhance each project's overall look-and-feel. The great advantage of incorporating our high quality, natural-looking artificial plantscaping with natural landscaping, is that our high-quality artificial plants, trees and hedges compliment the live landscaping so seamlessly that no one can tell they are are "fake" plants or trees used!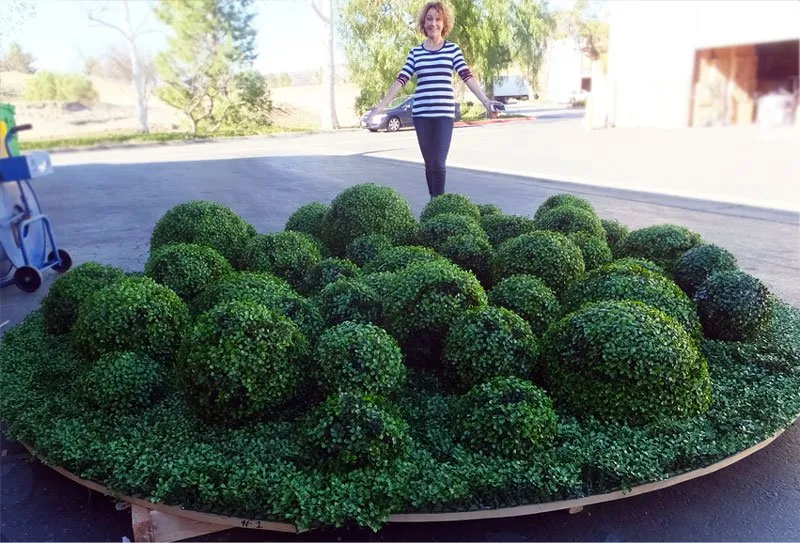 Commercially Rated Indoor – Outdoor, UV Stabilized, Bespoke Artificial Flowers, Plants & Trees
Landscape Architects use Make Be-Leaves to custom craft and produce lush long-lasting plantscapes. Fully artificial or a combination using real and/or artificial plants, flowers and trees – perfect for exterior and interior living spaces.
We can help expand your greenery options when there is poor or severe lighting or in extreme weather conditions. Additionally, we can help you:
Eliminate or reduce weight-bearing restrictions – typically on upper floor courtyards, patios and balconies
Bring flowering color to any area, year-round
Reduce budget long term, when regular replanting would be required maintenance in specific areas
Help with creative solutions during drought conditions
Areas difficult to keep real trees and plants flourishing
Where there is limited access for on-going maintenance
Improve LEED ratings
Artificial Landscape Design Consultations Available!
Life-like Flowers, Plants and Trees
Exterior artificial plantscaping has been growing in recent years due to the drought. Our artificial plant product offerings are always expanding and with it are the quality and extended UV warranty against fading.
Faux Boxwood Hedges are extremely popular. They are a great solution to create division and privacy – with a timeless, manicured elegance in a variety of styles. Our artificial hedges are constructed on welded metal framing to offer the option of freestanding hedges, or custom built to fit into any size planter. Both look equally as beautiful as low and compact or tall, stately pieces.
Contact me Toll Free: 800-634-1402 for a free artificial floral design consultation! – Susie Ameche
CASINOS
Casinos provide wonderful opportunities to create magical, themed environments – and custom artificial plantscaping plays an important role in the overall design. Make Be-Leaves has provided themed plantscaping including Egyptian, tropical, English garden, southwest, and Alpine.
HOTELS
Make Be-Leaves has extensive experience in creating custom plantscaping in hotel spaces that complement their live plantscaping. Whether for main lobbies, ballrooms, restaurants, or guest suites, Make Be-Leaves works closely with interior designers and architects to provide high quality, custom plantscaping, working within budgets and required time lines.
COMMERCIAL RETAIL
Artificial plantscaping is ever increasing in popularity for commercial public spaces – due to the costs of purchasing and maintaining live plantscaping, or never-ending costs of renting live. Another great advantage to artificial is the almost limitless choices of styles, shapes sizes of trees, floor plants and table top pieces – versus the very limiting options with live, due to natural light and temperature restrictions.
RESTAURANTS
Restaurant design continues to evolve into new, exciting, diverse styles. And artificial plantscaping is the perfect choice to create your vision – from large, focal specimen trees, stylized plantings, table top accent pieces, to customized faux living walls – Make Be-Leaves is ready to create your vision.
FAUX LIVING WALLS
Faux living walls are wildly popular – and no wonder! Our fabulous custom faux living walls create instant, lush green walls which provide a warm inviting environment – without taking up any floor space, nor any need for planters. Unlike real living walls, which require intricate irrigation systems, on-going replacement of plants, and potential watering issues – our faux living walls are maintenance-free!
HEALTHCARE FACILITIES
Plantscaping is a crucial part of the overall interior design for senior living properties, hospital and healthcare facilities – creating a warm, inviting atmosphere. Make Be-Leaves offers an extensive variety of custom artificial trees, floor plants, table top pieces – customized to the designer's specifications – with certified flame treatment available.
RESIDENTIAL PROPERTIES
Custom artificial plantscaping is the crucial, final finish touch to your residential project – from the custom tailored specimen tree, floor plant or table top piece – to the exquisite focal floral for an entry or dining table. Make Be-Leaves is ready to make your project look amazing!